Remembering the Revolution: Diasporal Discoveries' 4th Annual Horizon Expansion Fundraiser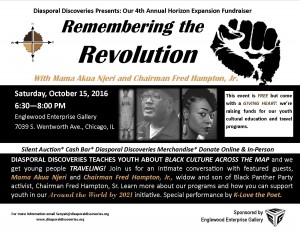 This event took place on the 50th anniversary of the founding of the Black Panther Party. To pay homage to this moment in history, we spoke with Mama Akua Njeri and Chairman Fred Hampton, Jr., widow and son of the BPP leader, Chairman Fred Hampton, Sr., who was assassinated in 1969.
Diasporal Discoveries would like to thank the following supporters: The Springboard Foundation, Englewood Enterprise Gallery, The Chicago Bears, East Bank Club, CMS Trophies, Gezelle Lopez, Ayoka Noelle Mota-Samuels, Nancy Asirifi-Otchere, Thomas Sewell, the DD Board of Directors, and all anonymous donors who helped make this event possible.
Sips of the Diaspora: Diasporal Discoveries' 3rd Annual Horizon Expansion Fundraiser
The Gift of the Griot: Diasporal Discoveries' 2nd Annual Horizon Expansion Fundraiser
Diasporal Discoveries' Horizon Expansion Luncheon